A Letter From the CEO of Pinwheel, in Support of the #LetParentsProtect Campaign

Dane Witbeck
I co-founded Pinwheel because I'm personally driven to give kids access to technology in the healthiest possible way.
But today I'm writing as a dad. I feel compelled to share this petition to#LetParentsProtect, which urges every social media platform to let parental monitoring tools have a voice in helping to protect kids.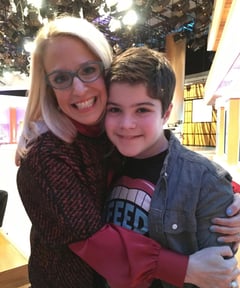 Dr. Laura Berman created this petition because she lost her son, Sammy, after a drug dealer contacted him through Snapchat. I respect Berman for taking action following her tragedy, especially since Sammy is just one example out of millions of kids facing difficulty on social media.
These kids can buy illicit drugs as easily as a pizza. Cyberbullying, higher suicide rates, sexting, hate speech, and trafficking are also frighteningly common.

Some social media platforms are beginning to partner with third-party safe apps (such as Pinwheel's partner, Bark), so parents are alerted when their children share dangerous content through social media. This type of alert has saved the lives of thousands of children and countless more painful and damaging experiences.

We need to convince companies like Snapchat and TikTok to partner with third-party safe apps, and give them permission to moderate and alert caregivers for red flags like suicide and illegal drugs.

In her petition, Berman outlines exactly how often social media plays a role in horrific situations, and I stand with her: if social media companies refuse to partner with third-party safe apps, then those companies have no place in my childrens' lives.

At Pinwheel we don't allow social media at all today, but in line with our mission is helping to graduate kids to higher levels of "tech competency". We would love to include social media on our platform. Changes like these from such companies would allow us, in partnership with parents, to guide kids toward safe competency rather than outright banning them.

I choose to sign this petition in solidarity with Dr. Berman and every parent that feels our kids deserve better parenting and guidance. I urge each of you to sign this petition now, and help us make a much-needed improvement in our kids' lives.

Please view the full petition and sign here.

Visit parentsforsaferchildren.org to learn more and find resources.

#LetParentsProtect



Dane Witbeck,
Co-Founder & CEO @ Pinwheel